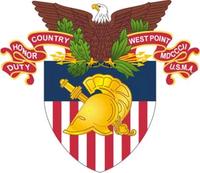 The Goldcoats
USMA / ACC
This page is dedicated to the "Goldcoats" who have supported the United States Military Academy's Academic Computer Center since its inception.
"The Academic Computer Center opened its doors in December 1962, offering the use of a newly procured General Electric 225 digital mainframe to all faculty members and cadets. Nine months later, the USMA sponsored an "Automatic Data Processing Seminar" for Army general officers to further cement support and assert leadership in this area. To mark the extremely qualified young enlisted technicians who operated the Center as worthy of special respect by cadets, they wore pale yellow lab coats over their uniforms. As cadet graduates spread word of their expertise throughout the world, the USMA "Goldcoats" became widely known as the Army's elite computer technology experts." - A Two-Edged Sword: Computing At West Point - Kenneth L. Alford, Gregory J. Conti, David B. Cushen, Eugene K. Ressler, Jr., William Turmel, and Donald J. Welch
Col. William F. Luebbert, USA (Ret.) - November 5, 1927 - May 20, 2017
LEBANON, N.H. — Col. William Frederick Luebbert, U.S. Army (Ret.), who was instrumental in the development of academic computing at the U.S. Military Academy during the 1960s and 1970s, and, in retirement, was a resident of Hanover and Lebanon for nearly 40 years, died at home at The Woodlands on May 20, 2017 after a lengthy illness.
Col. Luebbert was born on November 5, 1927 in San Francisco, CA, the son of William M. and Ruby (House) Luebbert. He entered the U.S. Military Academy at West Point, NY, in 1945, graduating on June 7, 1949 with a B.S. degree in electrical engineering. Later that afternoon he married Nancy Connell of Erie, PA, who had graduated from Wilson College a day earlier.

After a tour with the army of occupation in Germany, Bill headed to the West Coast in the fall of 1953. His career was turning toward its ultimate course: computers.
By 1956, Bill and Nan had three daughters—Elizabeth, Susan and Nancy. Bill was completing three graduate degrees from Stanford University, culminating in a Ph.D.
The family moved to Fort Monmouth, NJ, where Bill was in charge of the Army's earliest mobile computer—an electronic array squeezed onto a single flatbed trailer. Called MOBIDIC, it helped inspire his love of whales for the rest of his life.

In 1961 the Luebberts returned to West Point. With the exception of a few short assignments, they would remain at the Military Academy until Col. Luebbert retired in 1977.
The 1961-62 academic year at West Point found several academic deans collaborating to champion the use of computers in cadet education. They set radical goals (for the day): Every cadet should have hands-on exposure to computers, beginning in their first year; high priority should be given to making computer power available in every academic department, every cadet company and, eventually, to every classroom of the academy. Major William Luebbert was selected to lead this effort, and was assigned to the Dean's staff as director for computing with the central Academic Computing Center as a primary responsibility. He was granted effective tenure as one of West Point's first four permanent associate professors, a position he held until he retired in 1977.

The evolution and development of academic computing at West Point paralleled similar initiatives at Dartmouth College. Over the years, Col. Luebbert collaborated with members of the Dartmouth faculty, including John Kemeny and Tom Kurtz, prompting the Luebberts to retire to Hanover. For several years, Col. Luebbert held positions at Thayer School of Engineering and the Kiewit Computation Center at Dartmouth. Post-Dartmouth, he established the Computer Literacy Institute, a one-man enterprise to educate the marketplace on new computers. Then, in the 1990s, he took part in education-training-implementation projects for the International Executive Services Corps (IESC—a nonprofit organization dedicated to equitable, sustainable economic growth in developing countries) that took him to Albania, Egypt, Nepal, the Soviet Union and Zimbabwe. From its opening in 1986 until recent years, Bill and Nan were regular volunteers and committee members at David's House, the resource for families with children being treated at Dartmouth-Hitchcock Medical Center. He was also active with computer literacy programs in the Upper Valley and in SCORE.

Col. Luebbert is survived by his wife of 67 years, Nan; daughters Elizabeth (Peter) Stoll of Albuquerque NM, Susan Luebbert (Chris Hill) of Pittsburgh PA, and Nancy Luebbert (Jim Wallis) of Moscow ID. Grandchildren include Virginia Stoll of Seattle WA, Rebecca Stoll of Hamden CT, Chris Congdon (Anne Daily) of Evans City PA, and Brian Luebbert-Hill of Pittsburgh PA. He also has a great-grandson, Marcus Congdon of Evans City PA. Donations in Col. Luebbert's memory may be made to the Foundation for Peripheral Neuropathy or the Save the Redwoods League. Arrangements are by the Ricker Funeral Home & Crematory in Lebanon. Col. Luebbert will be buried at the USMA Cemetery at West Point at a later date.
Automatic Data Processing Seminar - August, 1963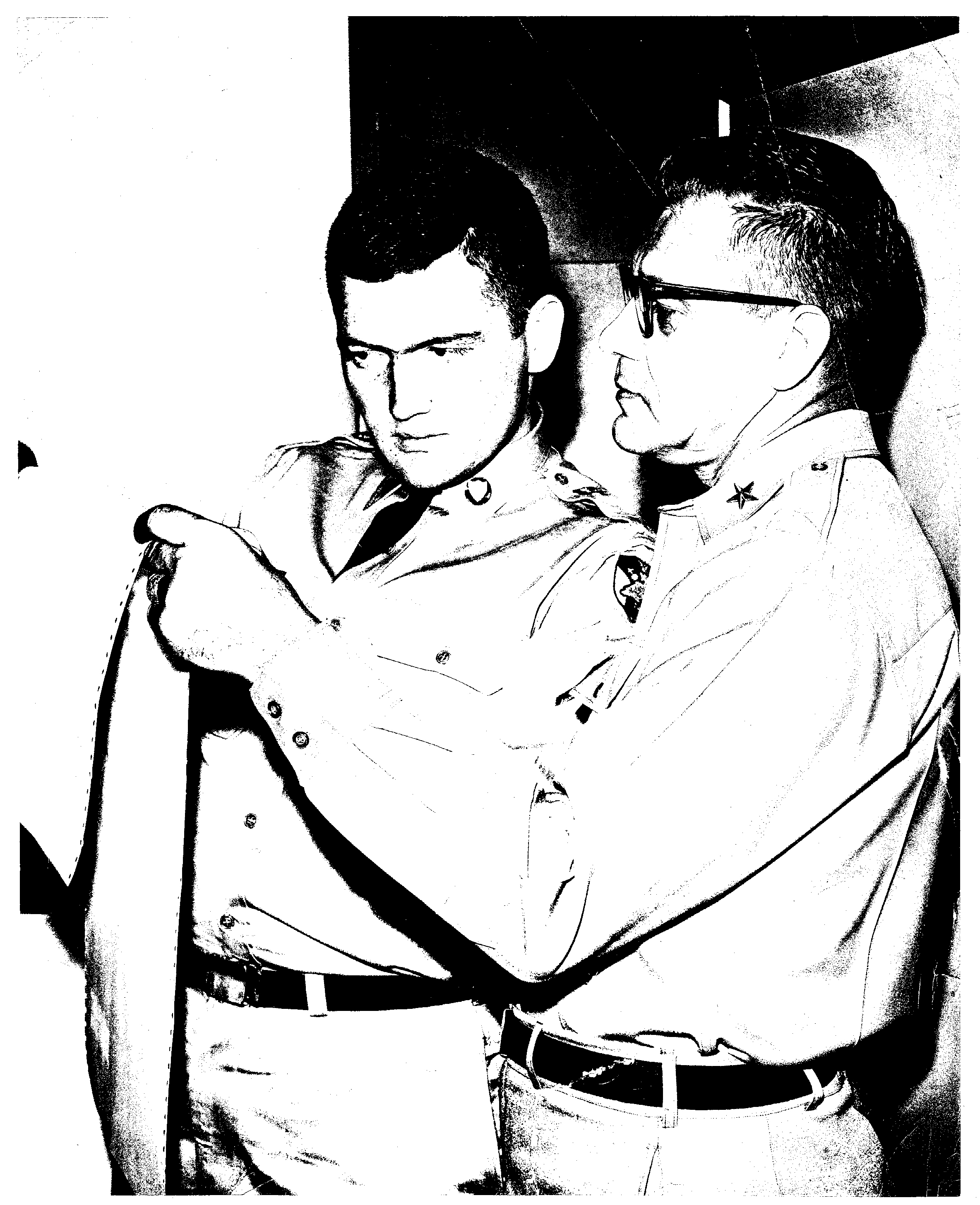 Photo by Jim Coulter, who writes "I believe this one was taken at the
special ADP Seminar for Army Generals during August, 1963."
The GE-225 Mainframe - circa 1963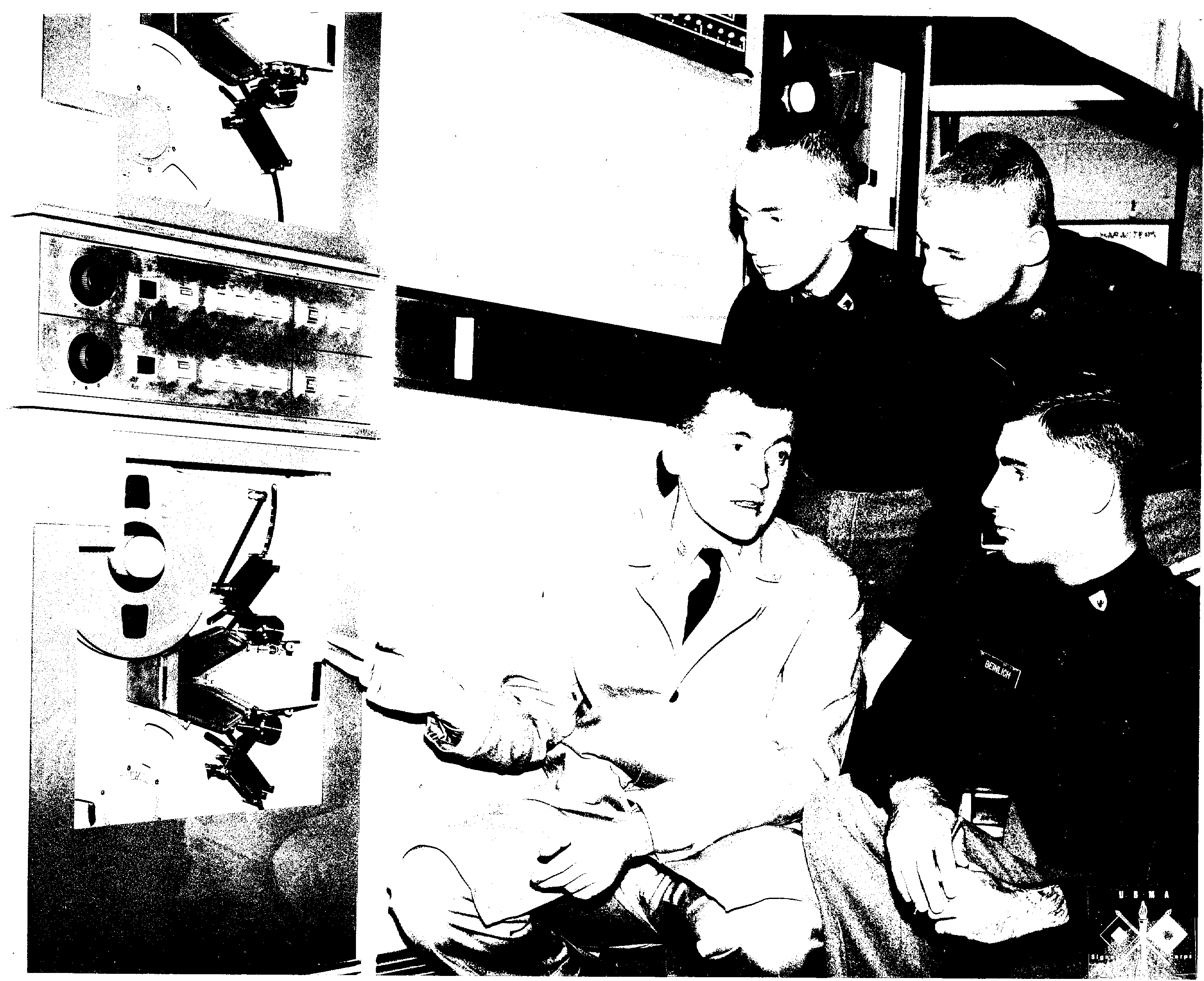 Photo by Jim Coulter, who writes "This is yours truly introducing cadets to the GE-225 and its
peripherals. I believe this was also taken during 1963."
The ACC Picnic - Summer, 1963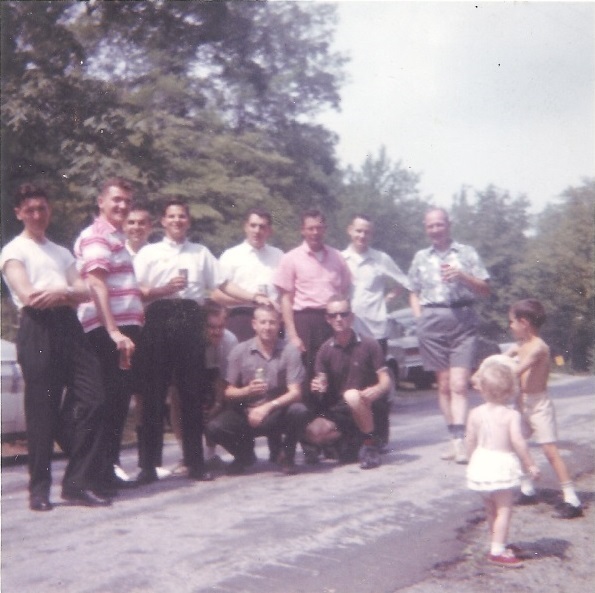 Photo by Jim Coulter, who writes:
"I believe this was ACC picnic during the summer of 1964.
Names from left to right are (as I remember them):
George A. George
Jim Coulter
Major Hollander
Bob Shiminske
Chuck Noxon (? - if it's Chuck, he was the GE Tech that kept
our GE225 running.)
Sgt. Ted Ball - kneeling
Capt. Frank O'Brien
? - kneeling
?
Major Luebbert
Do not know to whom the two children belonged."
The GE-225 Mainframe - circa 1966
The GE-225 mainframe in 1966, IBM Selectric typewriter console with the tape drives are in the background. To the left is the high-speed card reader, and to the right is the GE Datanet D-30 and its Olivetti-Bull card reader. The D-30 was an early piece of data communications equipment. Some of the Goldcoats were involved in writing the software to allow Cadets to enter and run Fortran, or as we called it CADETRAN, programs from their barracks. The curtains are closed. The large window looked out on the hallway of the bottom floor of Thayer Hall and the MP&L Department.
Gold Coats, circa 1965?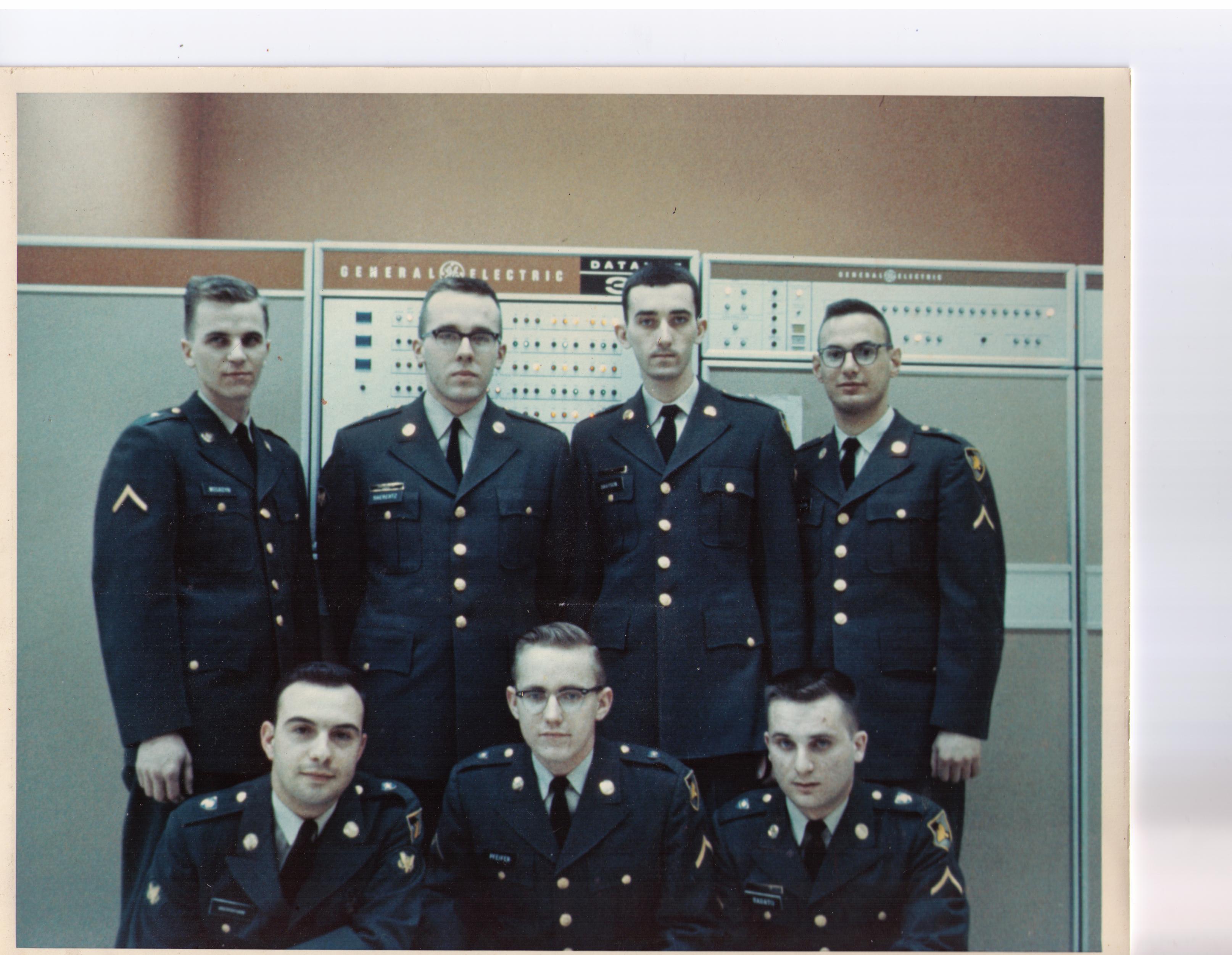 Back Row (l-r) PFC Ron Wegrzyn, SP/4 William A. Sherertz, SP/4 Gerald Davison, PFC David Presberg - Front Row (l-r) SP/4 Lenny Mastrogiovanni, PFC Pfeifer, PFC Joe Sabato
USMA Academic Computer Center Staff, 1967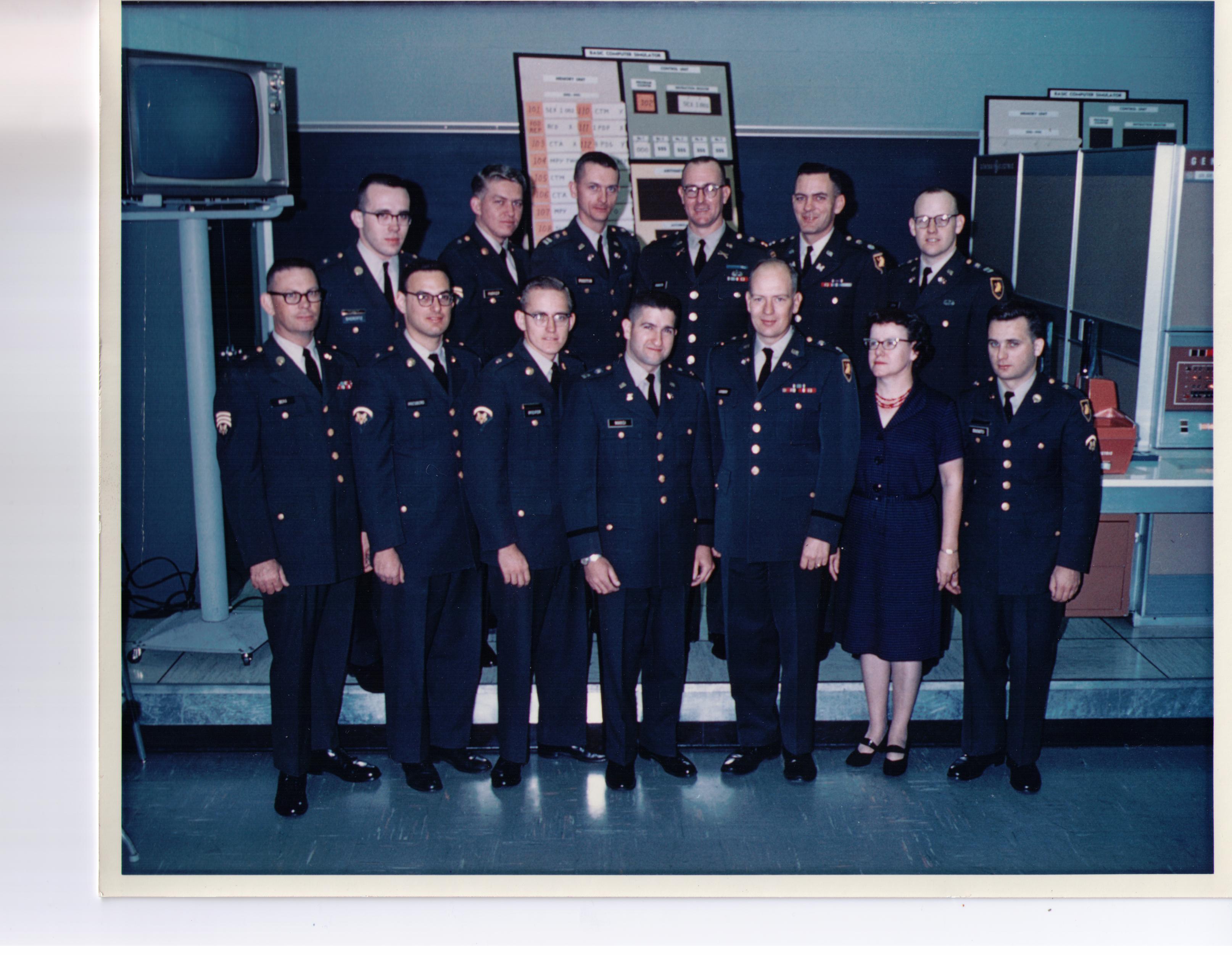 Bottom Row: Sp/7 Berg, Sp/5 Presberg, Sp/5 Pfeifer, Cpt. Mansi, Ltc. William F. Luebbert, Miss Sullivan, Sp/5 Sabato.
Top Row: Sp/5 Sherertz, Sp/6 Parker, Cpt. Preston, Maj. Parker, Ltc. Lombard, Cpt. Leech.
More Goldcoat Pictures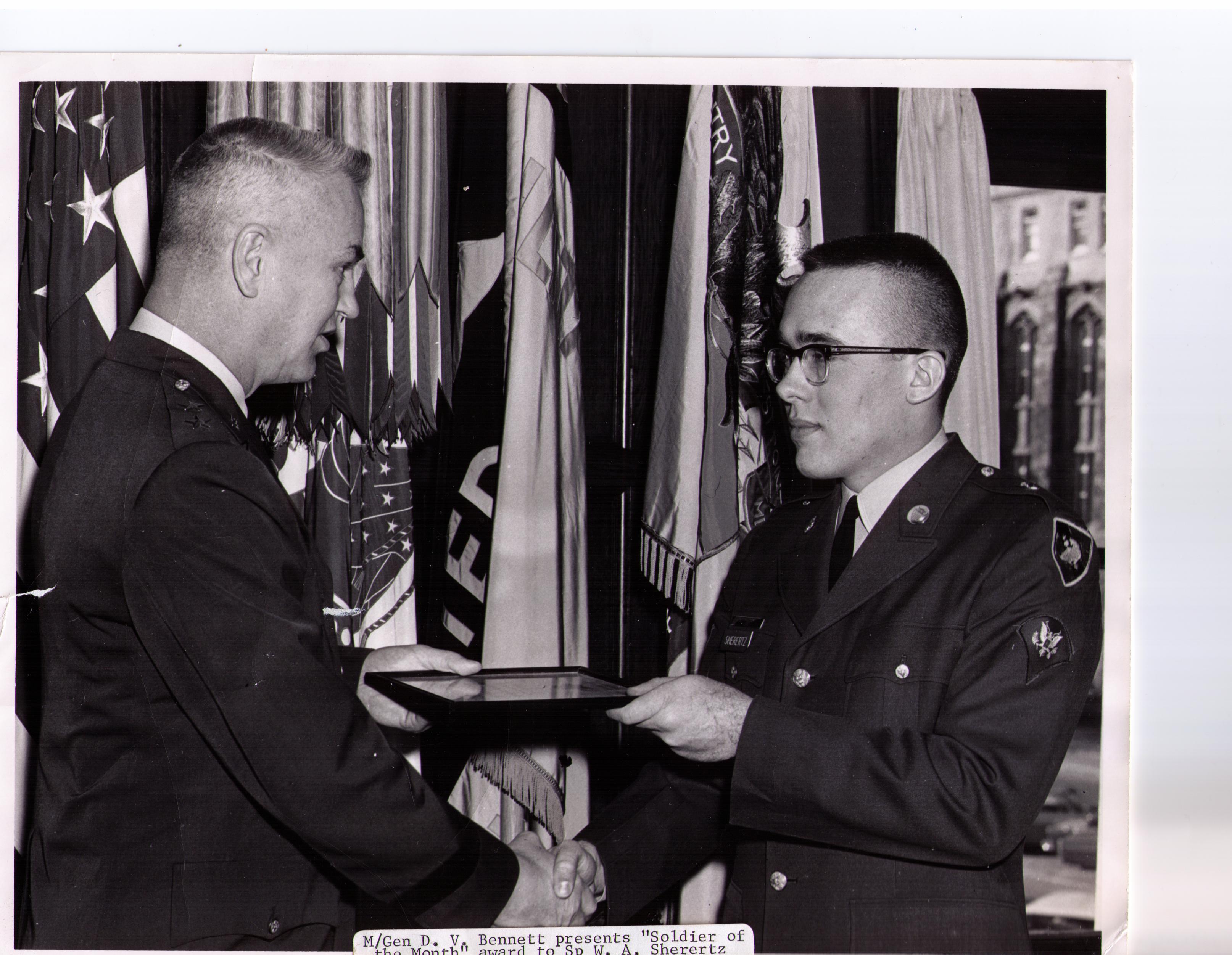 M/Gen D. V. Bennett presents "Soldier of the Month" award to Goldcoat SP/4 W. A. Sherertz
SP/5 William A. Sherertz - Goldcoat, 1964 - 1967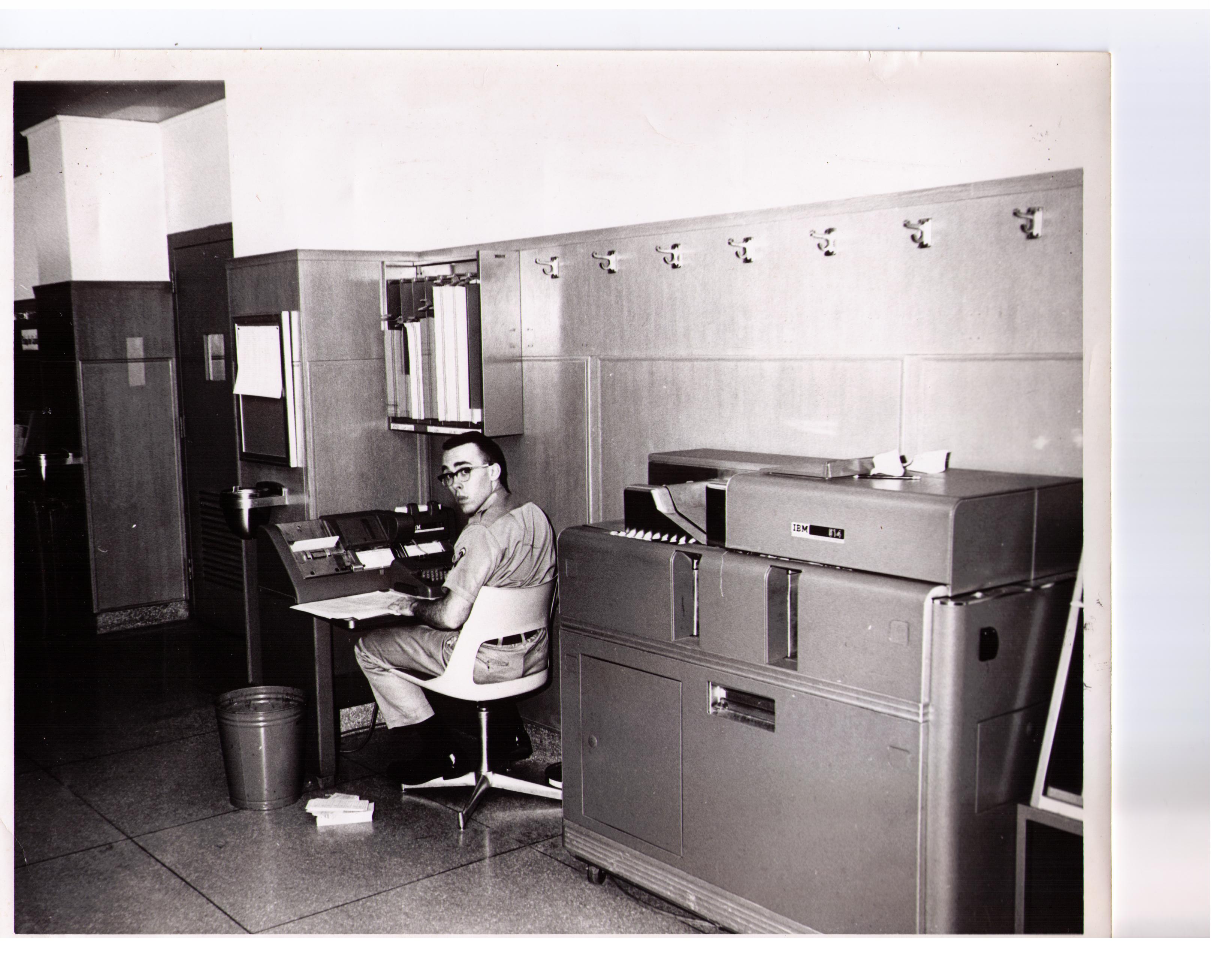 SP/5 Sherertz at the IBM 029 keypunch. Also shown is the IBM 514 Reproducing Mark-Sense Punch - aka "The Jam-O-Matic"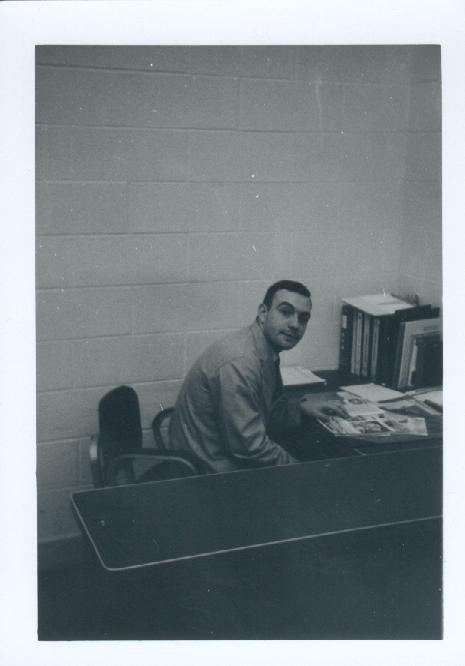 SP/5 Lenny Mastrogiovanni (1943-2008), Goldcoat, 1965-1966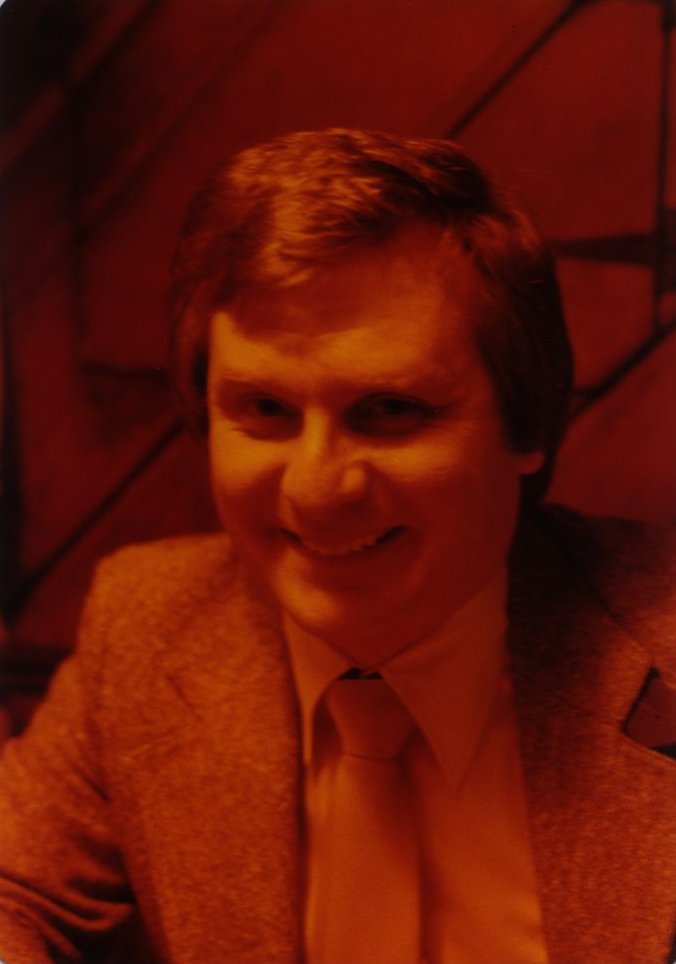 SP/5 Joe Sabato, Goldcoat, 1964-1966 - Photo taken in New York, NY, 1980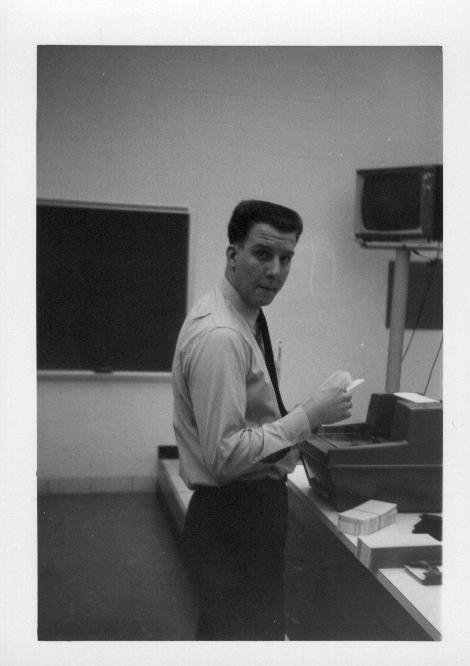 SP/5 Mike Paulson, Goldcoat, 1965-1966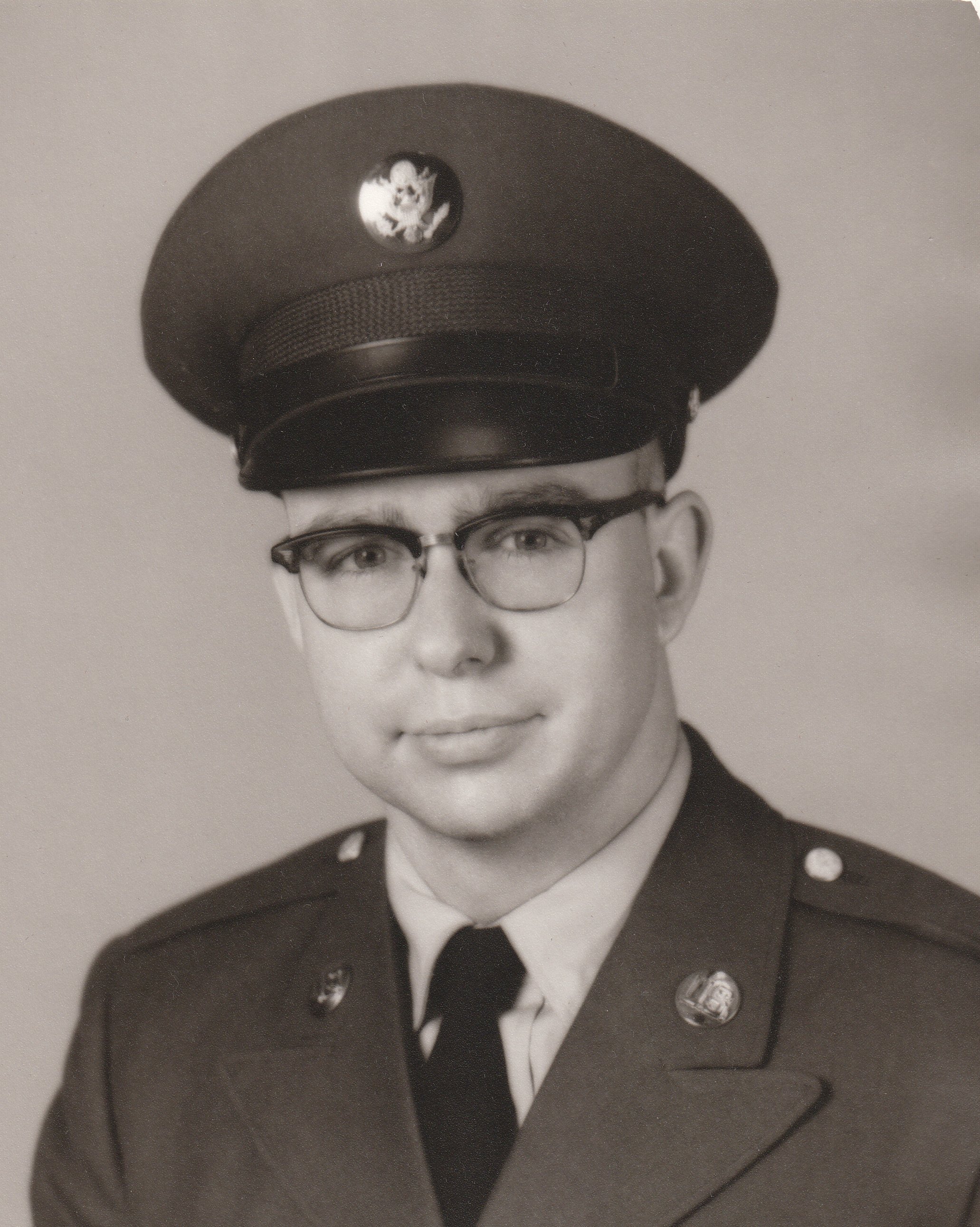 E-1 George Gladfelter (later PFC), Goldcoat, 1963-1965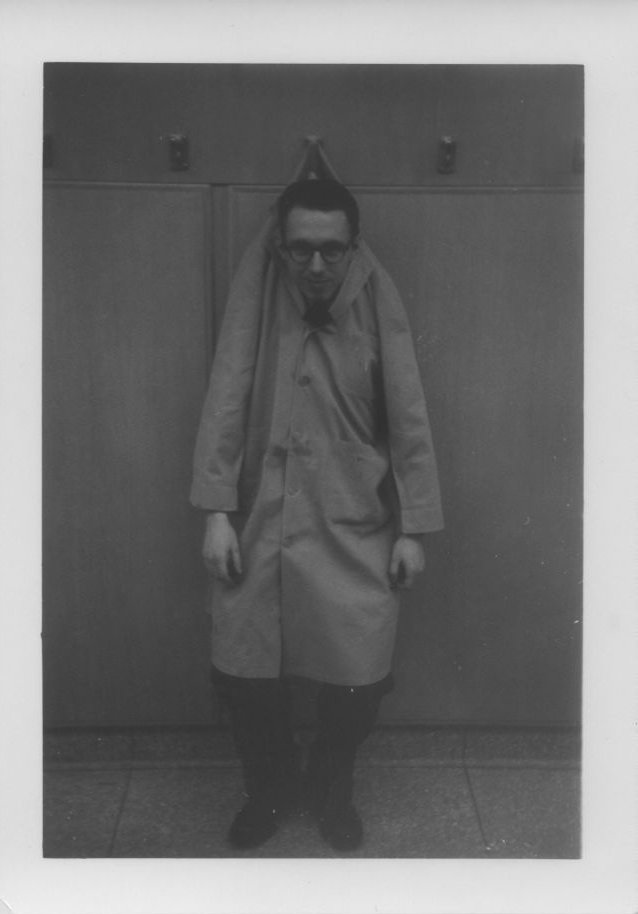 SP/5 Ed Costello, Goldcoat, 1965-1966
Yeah, sometimes we just goofed around ... but at least Ed was wearing his "Goldcoat".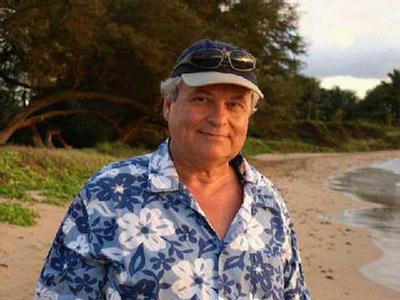 SP/5 Mike Flowers, Goldcoat, 1965-1966 - Photo taken on Maui, 2007
Other Goldcoats We Know Of, So Far:
MSgt Ted Ball (Ret.) - 1964 -1966
James Michael Coulter "Jim" - early 1963 to April 30, 1965
News Flash: Rick Wigginton has checked in! He lives in Nashville, TN. Welcome, Rick! We're glad to have you back among us and recognized here on the Goldcoat webpage!
Robert Shiminske - 1963 - 1964, exact dates unknown
John A. Junod - Goldcoat NCOIC - 1988 - 1992 (?)
Joe Sepielli - 1988 - 1992
John Blanc
Andy Creamer
Terry Lake
Joyce Wilcek
Rosevelt Corbett
Daniel Stewart
Jim Acevez
Christeen Sprage
Rick Wiggington
Karl Birkland
David Curewitz (sp?)
SSG Trahan
Thomas Faust
Photos from the ACC - 1965 - 1966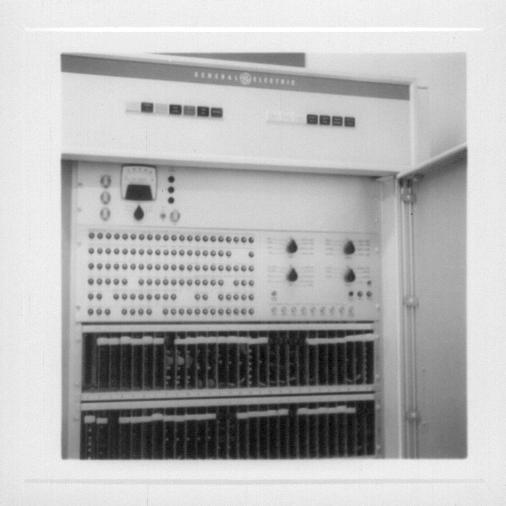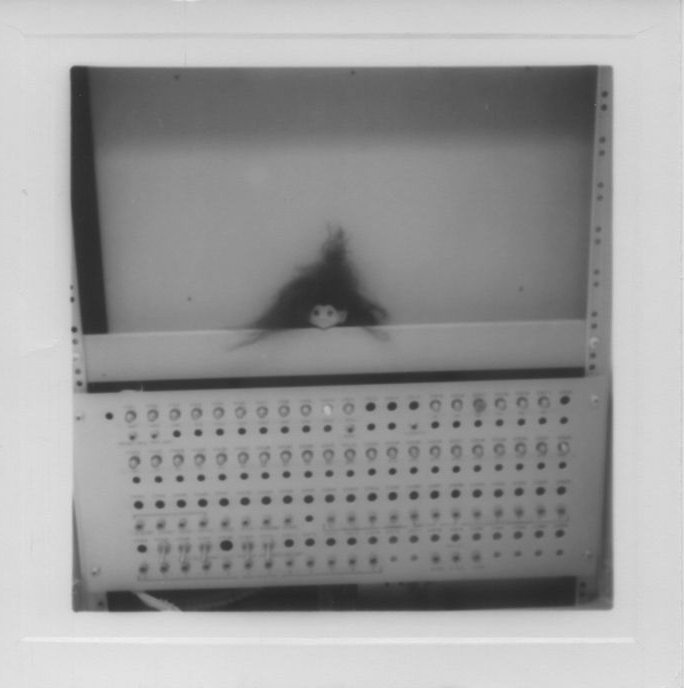 GE Datanet D-30 CPU boards GE-225 CPU Display Panel with Troll Option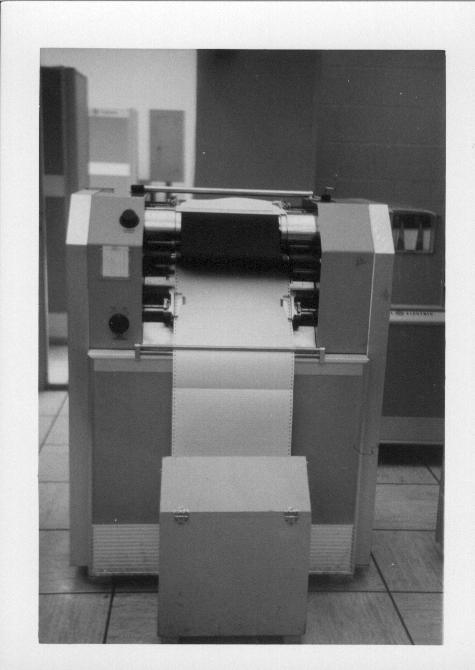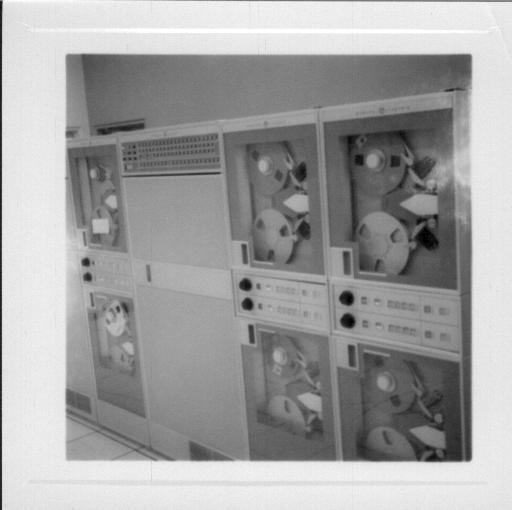 Analex Printer - Card Punch in the back, right Tape Drives - 8 channel if I remember correctly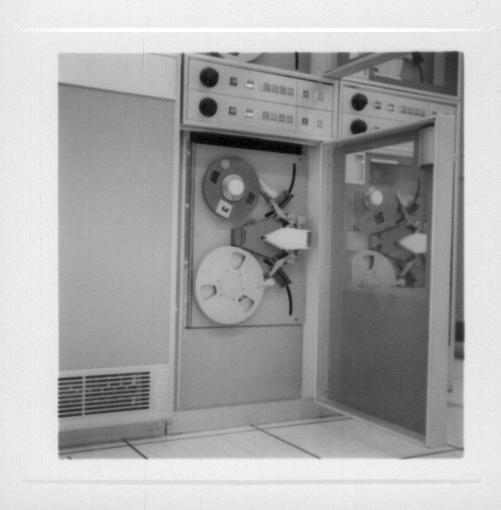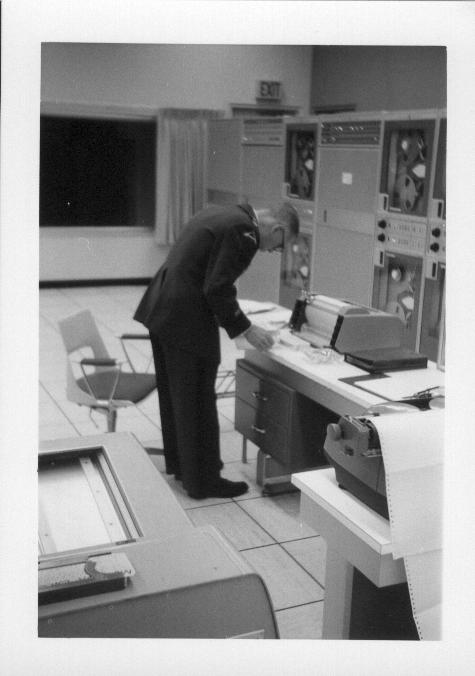 More tape drive detail There is a glass ash tray on the console desk ...
HQ Company, 1st Battalion, 1st Infantry
We were assigned to Headquarters Co., 1st Btn, 1st Inf. Click on the 1-1 Coat of Arms below to learn more about the historic 1st Infantry Regiment .
We wore these lapel insignia: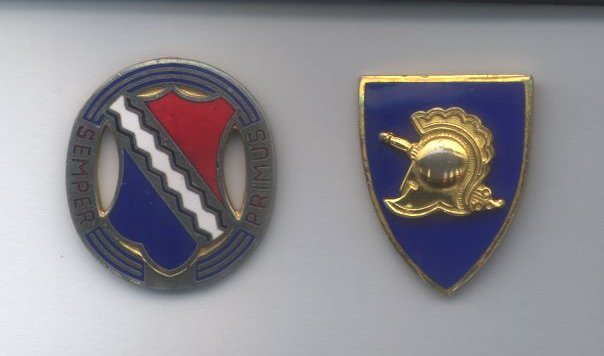 The Goldcoats of Today
Click on the IETD Graphic below to view the USMA webpage for today's Goldcoats.

Please Contact Us:
This page is maintained by Mike Flowers - email: k6mkf 'at' hotmail 'dot' com - and is by no means complete or totally accurate, as it was generated from memory, some information I found on the web and what few old photos I have. I'm in contact with Bill Sherertz, George Gladfelter, David "Pres" Presberg, Joe Sabato and Gerald Davison, and we hope to have more pictures and information posted here.
If you were or are a Goldcoat and would like to be recognized on this web page or have photos, corrections or materials you'd like to see posted here, please send me an email and we'll get started. If your name and picture are posted here, please check in and let us know if the information is correct and how you're doing.
Best regards,
Mike Flowers (former SP5)
Revised: 22 JUN 2017